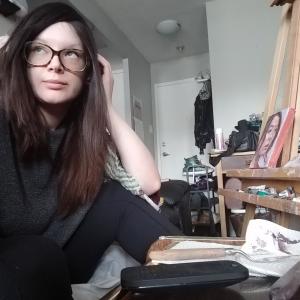 Nicole Mandelis
Artist member since 2019
Toronto , Ontario
Nicole Mandelis began her art career in commercial art and graphic design, having graduated from Sheridan College with a Bachelor's degree in Illustration. Spending summers at her family's home in Greece and traveling throughout Europe, she absorbed the beauty of the artwork and historical costumes,  and returned to Canada ready to apply it to her artwork.  This led to a shift to fine art and painting,  looking to history while utilizing technology along the way.
Nicole finds inspiration in genre painting, opera and stage design, and artists such as Franz Winterhalter and Caspar David Freidrich.
---
What places do you hang out in Toronto?
I love the east end - I love the independent cafes and bars of the Danforth neighbourhood
Coffees per day and from where
At least 2, one of which comes from the Greek cafes on Pape Avenue
Why is it important for people to have art in their home or life?
We're bombarded with images all day, every day, often without considering why or how we feel about them. Art allows us to contemplate the visual world around us.
Who do you consider a genius?
Ludwig II of Bavaria. Although impractical, he was politically more nuanced than he was ever given credit for, and envisioned a society based on art and beauty over petty infighting.
Describe the person your work appeals to in 3 words
They have an appreciation for beauty and history but are not afraid to embrace change and modernity.
Favourite book
Gormenghast by Mervyn Peake - probably the best fantasy literature ever. Peake was also an illustrator, and his vivid scenic descriptions build a fully functioning, dysfunctional kingdom.
Upcoming Exhibitions
2019-06-11
The Dock on Queen, Toronto
June 2019 exhibition
Select Past Exhibitions
2019
Slanted Door Gallery, Toronto

Education
2012
Sheridan College
Bachelor of Applied Arts, Illustration